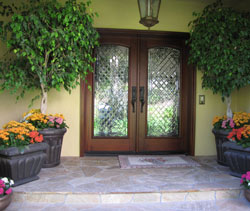 The selection of decorative containers that we use will provide you with the highest quality, variety, durability and affordability. We distribute high quality product from a variety of manufacturers. We will work with you to select decorative containers that match your decor, as well as being appropriate for your plants, all while giving you options to meet any budget. We also offer a selection of paintable containers that enable your containers to change as your décor changes.
Ovation Plant Containers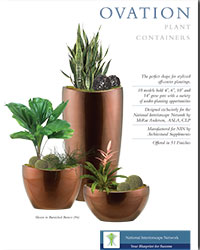 As members of the National Interiorscape Network we are able to offer the exclusive Ovation series of containers to our customers. Ovation Plant Containers feature beautiful lines and finishes.
Download your Ovation Planter Brochure today!
Architectural Supplements – ASI Decorative Containers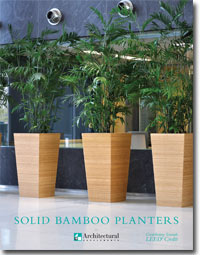 ASI offers a myriad of looks and styles sure to compliment many designs. As there are many styles to choose from we have provided a separate page for the ASI container line. Our ASI Decorative Container page has links to specific pdf brochures describing each series of containers. In addition to their container line, Evergreen Interiors distributes Living Walls, Plant Portraits, and sub-irrigation systems manufactured by ASI.
Be sure to check out our ASI Product Brochure page for information on the ever expanding line of ASI decorative containers, green wall planters, sub-irrigation and stands.
Jay Scotts Collection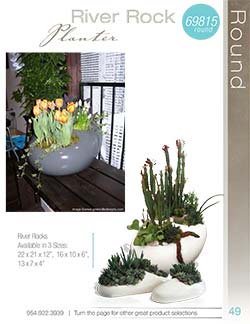 Jay Scotts products feature the highest quality indoor/outdoor planters, outdoor home and commercial furnishings, accessories, vases and lanterns. With cutting edge styles, designs, shapes and finishes, Jay Scotts products flatter any décor.
Jay Scotts products are not only beautiful and unique; they are also functional, durable and lasting because they are constructed of the best materials available, created by remarkably skilled craftsman made to last and to maintain their beauty for years to come.
Jay Scotts Products are designed in-house and custom manufactured exclusively for Jay Scotts.
Contact Evergreen Interiors Inc, to take the guess work out of selecting the perfect Jay Scotts vessels, containers, and accessories for your interior or patio plantscape project. Click to download a Jay Scotts Collection product brochure.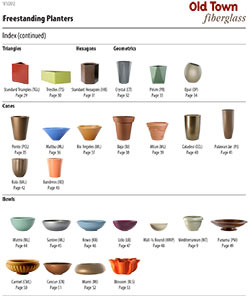 For over 30 years Old Town Fiberglass has been creating custom planters and planter liners in Orange county California. All of the products are made here in the USA.
Planters can be ordered with custom colors and custom styles, sizes and shapes. We have a small sampling of styles and colors available for viewing online on our Old Town Fiberglass gallery page.
Tournesol Siteworks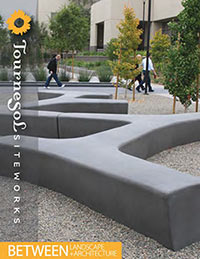 Tournesol Siteworks has many products suited for both indoors and out. Tournesol has products ranging from outdoor containers with metallic finishes, to wall planters, free standing planters, and sub-irrigation controlled watering inserts. We have additional information regarding CWI – Controlled Watering Inserts, on our Sub-irrigation page.
For additional information on the Tournesol Siteworks product line, here is a link to download a pdf Tournesol Siteworks Product Brochure .