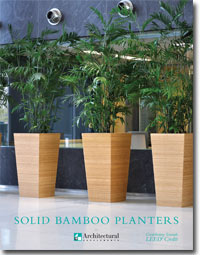 ASI offers a myriad of products, looks and styles that compliment many designs. We will assist you in choosing the right product for the right space. Working with top quality suppliers such as ASI, we provide a wide variety of products for our customers  such as :
Decorative Containers
Living Walls – Green Walls
Plant Portraits
Sub-irrigation
*note – The  solid Bamboo planters and Phoenix series qualify for LEED credits. Check out the brochures  for more information.
Remember that Evergreen Interiors, Inc will assist you in selecting your  decorative containers, Living Wall Planters for green walls, Plant Portraits, and sub-irrigation.  As distributors of many different product lines we will help you in making the perfect decision to bring smiles into your office and home. Contact us today with any questions. 619-528-0119.
Architectural Supplements Product Brochures